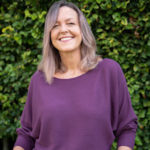 Sarah Wilsher's Biography
How Sarah describes herself: Approachable, Supportive, Engaging and Trusted
Superpowers:  Making friends!  Her husband teases her about meeting someone for the first time, then behaving like best friends within the hour! 
Strengths: Sarah is such a supportive listener that people tell all their darkest secrets without the need for prompting (sometimes too much detail, but she is very discreet and professionally confidential)
Random Fact: Sarah has just discovered a new passion for painting and is exploring the delights of acrylic and watercolours with a group of budding artists she met after delivering a Positive Mindset talk to the class
Work History
Sarah is a Procurement Specialist by trade and spent nearly 30 years in the Textile Industry as a Purchasing & Supply Chain Manager.  As a senior leader in the business, she became a natural coach and mentor to her team and business colleagues and often had a queue of people waiting for their timeslot to talk to 'The Wilsh' about work issues, or how to navigate the pitfalls of the latest company transformation.  
Following 2 redundancies, she decided to follow her passion for coaching and trained to become a Transformational Coach.  She runs her own coaching practice, working mainly, but not exclusively, with Mid-Lifers navigating job loss, empty nest syndrome, grief and monotony and who require support in gaining the clarity to make significant changes in their life.  
Working with this demographic opened Sarah's eyes to the devastating effect Menopause has on some people, especially in the workplace, so she launched a support network on Facebook called 'Caution! Menopause at work' which provides a safe space for people to talk about their concerns, share coping mechanisms and treatments and basically break the taboo around the subject.  She now delivers training and webinars about Menopause in the Workplace.