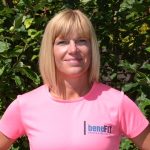 Kerrie Brindle's Biography
How Kerrie describes herself: Active, fun, honest
Superpowers:  Kerrie is super fit and even though the marathon she was signed up for cancelled owing to Covid, she decided to run it on her own locally!
Strengths: Kerrie has a positive outlook on everything in life, which is a great asset to have as a trainer
Random Fact: When she is sitting still (quite a rare occurrence) Kerrie loves to indulge in a bit of reality TV – her fave is 'I'm a Celebrity… Get Me Out of Here!'
Work History
Kerrie has been working within the health and safety sector for the past 18 years. Having worked with clients across a number of sectors, Kerrie understands the complexities, pressures and dynamics of managing health and wellbeing across diverse working environments. In 2014, Kerrie moved into health and wellbeing after retraining in nutrition and fitness. An MBA graduate, Kerrie delivers workshops and training in nutrition, physical activity and resilience believing that living a more active, healthier life directly impacts on your mental wellbeing, motivation, performance and success at work. As a Mental Health First Aid Instructor, Kerrie teaches the 2-day Adult course for The Healthy Work Company.
The Healthy Work Company works with the best-in-class trainers and training providers. The business is also working closely with Acre Frameworks – the only provider of specialist psychometric testing for health and safety professionals in the UK.