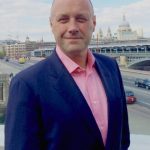 David Whiting's Biography
How David describes himself: Thoughtful, approachable, positive
Superpowers:  Fighting fires and running; marathons, up hills, along trails…you name it, he runs it!
Strengths: David is often praised for being approachable and understanding, the perfect combination for being an Associate Instructor!
Random Fact: David is a stickler for grammar and often likes to correct people. He also plays an instrument – the saxophone – maybe there is a Healthy Work band in the making with HB as lead singer!
Work History
David worked in the London Fire Brigade for over thirty years and attended many significant incidents.  During his service, he led a group in the brigade which ensured that emergency services, the military and government organisations worked effectively together at major incidents.  Additionally, he was the lead officer in the 7th July bombing inquests ensuring that his colleagues were supported emotionally during the hearings.
Following his retirement from the service, David has worked in the civil nuclear industry focussing on emergency preparedness and response including crisis and incident management. David is a Mental Health First Aid instructor approved to deliver adult, youth and higher education courses. He is also approved to deliver the British Safety Council 'Mates in Mind' courses. David is passionate about reducing the stigma around mental health, particularly in those sectors in which there's a reluctance to openly discuss the subject.